The Danish outdoor brand Nordisk offers a very light, small and yet insulating sleeping mat – the Grip 2.5. Since you can find little information on the Internet, we wanted to get an idea of the mat ourselves!
First impression
Inflation and deflation
Lying and sleeping comfort
Weight and packing size
Material and finishing
Warmth and insulation performance
Available variants
Conclusion
First impression:
Included with the Grip 2.5 is a pack sack (with cord stopper closing) and a compression strap (with an aluminum buckle). The mat appears very light, has a high-quality feel and two different colors (mustard yellow on the top and black on the bottom). We immediately noticed in particular that the mat is enormously thin when packed.
Inflation and deflation:
The Nordisk Grip 2.5 is inflated by mouth via a valve. This is done extremely quickly and easily. After five or six breaths, the mat is ready for use. It doesn't take a minute, which is amazing, especially in the rain! The valve is closed by pressing the valve head in and turning it a quarter clockwise.
When inflated, the mat is about 2.5 cm thick and makes a thoroughly stable and high-quality impression.
Deflating is simple as well: open the valve, press the air out of the mat with your hands until you can fold it in half. Then the very light sleeping mat is rolled up in the folded state from the foot end and fixed with the compression strap. Done!
The only point of criticism: Since the mat is filled with breathing air, humidity gets inside and can possibly accumulate there.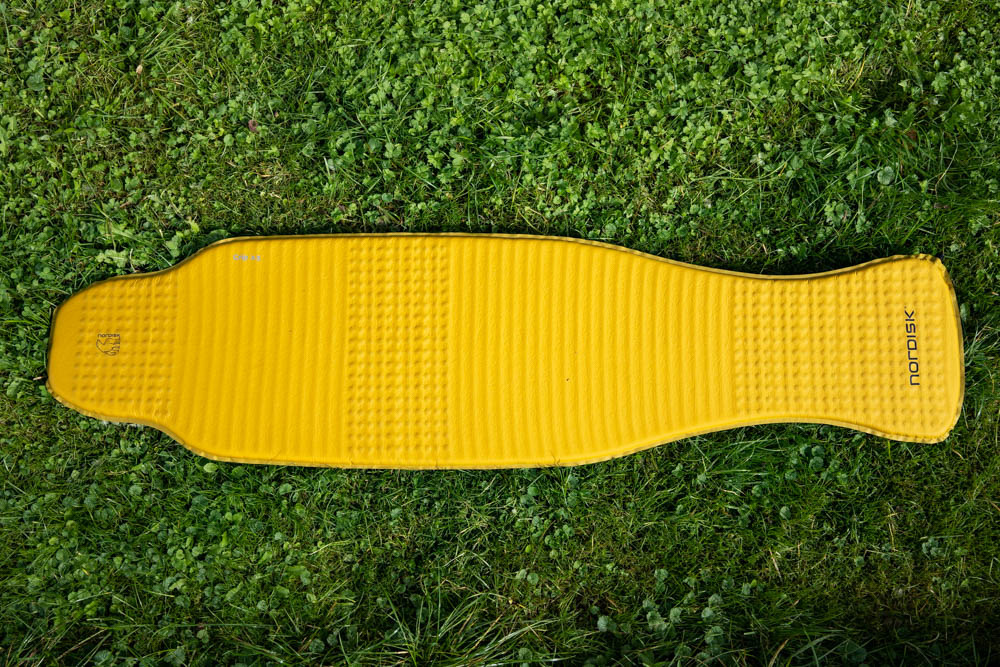 Lying and sleeping comfort:
Let's get to the most important part: how is sleeping on the mat? We have used the mat for a few nights, sleeping on slightly uneven but not too hard ground (only small stones). We noticed very positively that the mat is pretty quiet and surprisingly comfortable (for its thickness). Since the insulation is made by solid material (foam), nothing moves in the mat and therefore nothing can rustle. A big plus especially for people with restless sleep or their tent partners!
Caution: Nevertheless, friction between the mat and the sleeping bag can of course cause noise. But this also depends largely on the outer material of the sleeping bag.
The thickness of the mat is 2 cm, clearly designed to save weight. More thickness would be more conducive to comfort, but would significantly increase the weight. However, we were positively surprised by the sleeping comfort! You lie comfortably and small stones (about 1 cm in diameter) do not pierce. However, if you rest on your elbow, for example, the point load immediately ensures that you push the mat through to the floor! The only point of criticism regarding the sleeping comfort from our point of view is the body-hugging and quite narrow cut of the mat. If you are one of the more restless sleepers, your head or feet may slip off the mat. Side sleepers will also miss some space. Here you simply have to accept compromises in terms of weight!
Weight and packing size:
Let's move on to the biggest advantages of the Grip 2.5: it is incredibly light and small! Below you will find the manufacturer's specifications and the weights we determined:
| | | |
| --- | --- | --- |
| Weight specifications: | Manufacturer information | Weighed by us |
| Weight Nordisk Grip 2.5 Large (mat only) | 385 g | 394,4 g |
| Weight pack sack without repair kit | n. s. | 16,4 g |
| Weight compression straps | n. s. | 9,5 g |
| Weight repair kit | n. s. | 10,5 g |
| Total weight (mat + pack sack + strap + repair set) | n. s. | 431 g |
Weight table Nordisk Grip 2.5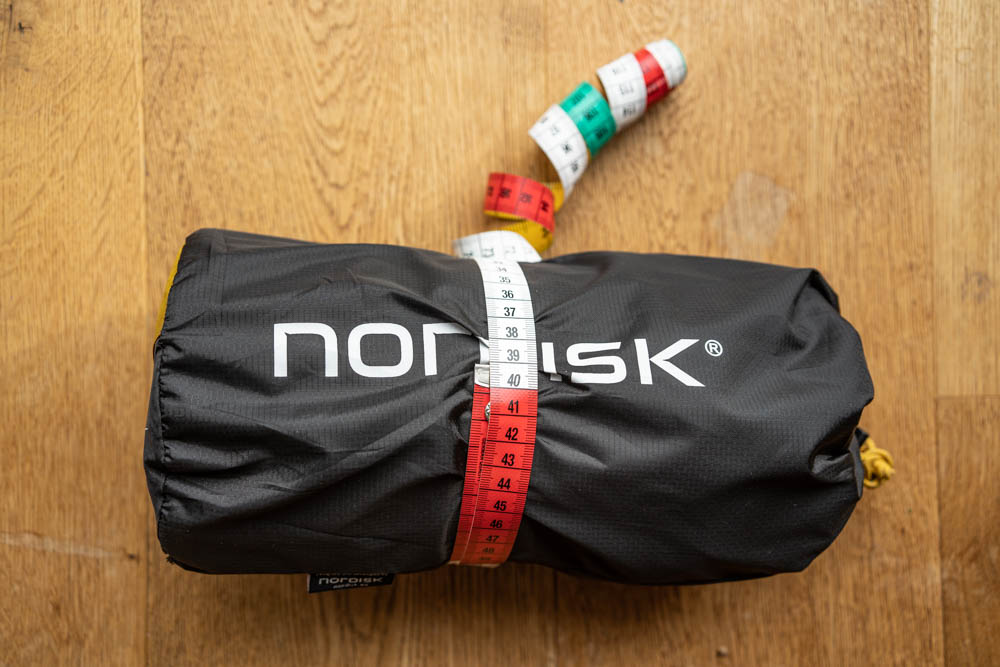 | | | |
| --- | --- | --- |
| Dimensions inflated (Grip 2.5 Large variant): | Manufacturer information | measured by us |
| Length | 193 cm | 191 cm |
| Width | 50 cm | 49 cm |
| Height | 2 cm | 2,5 cm |
The pack size is also very compact with about 28 x 13 cm. You should be able to stow the mat thereby without any problem in each backpack and in addition it's perfekt for bikepacking too.
Material and finishing:
The top of the Nordisk Grip 2.5 is made of 20D Rip-Stop on both sides, which is 100% polyester. On the upper side, the fabric is made in honeycomb structure and dyed mustard yellow, on the underside in black. The filling is made of ultra-light foam with a density of 12kg / m3.
Insulation and insulation value
The Grip 2.5 has an R-value of 2.3. This means that the mat is a typical 3-season sleeping mat. The limit of this very light sleeping mat is at temperatures around freezing point. In colder temperatures (as in winter), a mat with a higher R-value should be used. An alternative here would be the Grip 3.8, also from Nordisk. The mat is identical in concept, only has thicker insulation and is therefore heavier.
Available variants
The Grip 2.5 is not only available in two different sizes, but (as just described) also in another, thicker variant (Grip 3.8) with an R-value of 3.6. This is still suitable on much colder days and is also thicker, which is conducive to comfort. Unfortunately, this also increases the weight by about 100 g. Both versions are available in a regular version with 178 cm length and a large version with the 193 cm (manufacturer's specification), which we tested.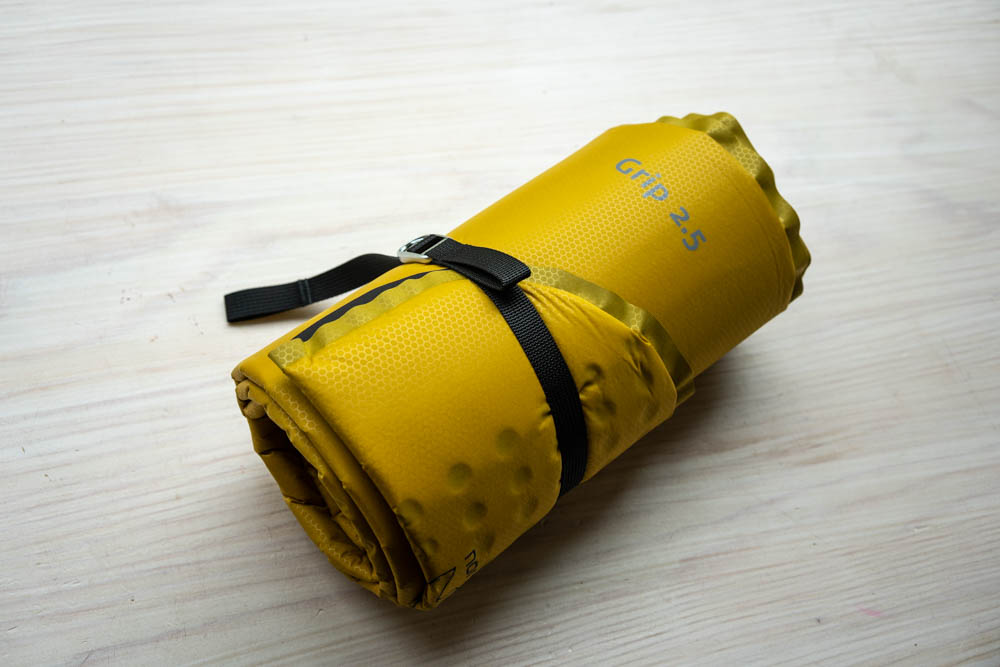 Conclusion
What can I say… Nordisk ultralight sleeping mats have completely passed me until now. I knew that Nordisk offers mats, but not that they are so light, high quality workmanship and at the same time inexpensive. Technically, this is a top-notch product that should be familiar to any ultralight hiker. However, it must be clear that the entire concept of the Grip 2.5 is designed for lightness. This means that you are forced to compromise on comfort. However, if you are aware of this, there is a clear buy recommendation from our point of view!