Doing a long-distance hiking trail in winter is a unique experience. Even if it may take some convincing to lace up your hiking boots in the cold season, you will be rewarded by the special natural scenery and adventures. From snowy forests to northern lights, there is much to discover on the winter hiking trails.

But while this winter wonderland may seem calm and peaceful, trekking in cold temperatures should be well-planned. In this article, we will show you what to pay attention to in preparation and what challenges long-distance hiking in snow and ice brings with it. It is assumed that the nights will be spent in mountain huts and not in tents. Camping equipment is therefore excluded.
Table of Contents
Clothing
The tried-and-tested multi-layer principle is particularly important for trekking in winter. With several layers you can prepare yourself for cold temperatures in the best possible way. Nevertheless, it is also important not to wrap up too warmly in lower temperatures. It is better to be a little cold for the first half hour than to start warm, then sweat and be cold for the rest of the day. Basically, you should wear base, mid-layer and shell on your upper body.
Base-Layer
Compared to conventional underwear, functional underwear offers the advantage that sweat is quickly transported away from the body to the outside. This prevents you from cooling down due to your own sweat. So it's best to avoid wearing cotton clothing on your adventure in the snow and ice! Merino wool, on the other hand, is particularly suitable for winter hikes thanks to its temperature-regulating properties. The material provides a cooling effect in hot weather and warmth in cold weather. In addition, underwear made from merino wool has the advantage over synthetics in that it can be worn for several days at a time without spreading unpleasant odours. However, synthetic functional clothing is even more breathable and dries faster than the natural material.
Mid-Layer
The mid-layer is the insulation layer within your gear. Before choosing a particular piece of clothing, you should check the weather conditions on your chosen trail. Fleece jackets or jumpers are warm and dry quickly but are also very liable to wind. So if you are traveling in a windy region, you should also be wearing a windproof shell. In extreme cold, a synthetic insulation jacket is recommended as a mid-layer, as it is even warmer compared to the fleece jacket.
The backpack should also contain a down jacket. Despite often being too warm to wear while moving, down provides the perfect insulation while resting. For breaks, you should therefore leave some space for that down jacket. However, be careful with wetness. If the material gets wet, it loses its insulating capacity and can take several days for drying. So it's better to skip the snow angel in your down jacket. If you want to avoid down as a material, you can also go for a thicker synthetic insulation jacket. However, these are larger and heavier in terms of pack size, yet moisture-resistant.
Shell
Among the shells are two main categories: Hard and soft shells. A softshell is windproof, very breathable and water repellent. This makes it well suited for cold, dry conditions. Especially with great physical activity, it takes significantly longer before sweat condenses on the inside. Yet the softshell is not waterproof. If you don't expect to end up in high snow several times a day on your tour, the softshell is a good choice. But if you're expecting a lot of wetness on your adventure, you should go for a waterproof shell. That's where the hardshell comes into play. Windproof, waterproof and breathable, it protects you against the elements.

Also, it is important to make sure that your trekking jacket is suitable for carrying a backpack – which is often not the case with ultralight and 2-layer jackets. A three layer membrane jacket will therefore be the best choice. A PU-coated jacket is less suitable, as these usually breathe little or not at all and your mid-layer will quickly become sweaty. Lastly, make sure you have underarm ventilation. These can be opened to provide an easier path for humidity to be released to the outside.
In addition, a hat, scarf and waterproof winter gloves should always be brought along.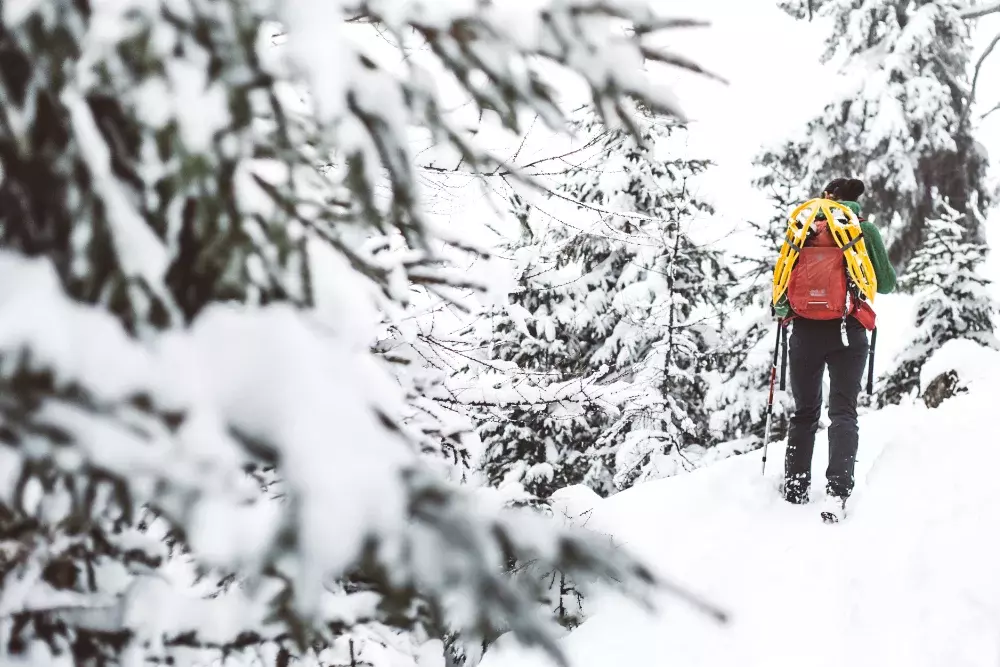 Pants
Again, conventional clothing such as jeans or cotton trousers are not suitable. Instead, you should again go for a good combination of breathability and waterproofness. For example, a combination of long ski underwear, made of synthetic or merino wool, together with normal hiking trousers is a good fit. Alternatively, you can choose water-repellent and windproof softshell hiking pants. Ski trousers are often too warm for a sporty hike.
Shoes
Trekking in cold temperatures and snow places different demands on footwear than hiking in the warm and dry seasons. But even if the name suggests it, classical winter shoes are rather unsuitable for winter hikes. These may be snowproof and therefore waterproof, but they are not breathable and often too warm during continuous movement. Instead, you can rely on your classic hiking boots as long as they meet the following requirements. First and foremost, they should be waterproof or at least highly water-repellent. Leather or a combination of leather and Gore-Tex is increasingly used as the material for the shoe. This way your feet stay warm and dry during the multiday tour. The shoes should be high-cut so that as little snow as possible can penetrate from above.t wenig Schnee eindringen kann.
When expecting a lot of snow on your tour, you should also check whether you need snowshoes or touring skis. It may also be worth investing in a pair of gaiters to keep your feet dry in deep snow. But besides dry feet, we want them to be warm. For this reason, winter hiking boots should have insulation against the cold rising from the ground.
Some insulating insoles are sufficient, certainly if you are mainly on the move all day. The material used is, for example, wool or felt.
Backpack
Even if you don't face a snowstorm on your long-distance trek, your backpack will be exposed to wet conditions. A rain cover is sufficient protection in most cases and is supplied with many hiking backpacks. If you also want to do some routes with snowshoes, make sure that the backpack is equipped for this and that you can attach your equipment to it.
Further Equipment
For trekking in the snow over several days, you need more equipment than just proper clothing. In winter, the days are shorter and a headlamp in your luggage becomes essential. Despite even the best planning, a stage can take longer than expected, especially in snow. Walking the path in the dark can be extremely dangerous.
If you are also expecting temperatures below 0°C, the Grödel should not be missing from your backpack. These lightweight crampons give you grip on icy ground and can be used on almost all hiking boots. Nevertheless, we recommend that you familiarise yourself with the Grödel before the start of your tour and attach them to your shoes at least once.
In addition, you should always carry an extra set of clothes. You don't need to bring an extra jacket, but a pair of socks and a second T-shirt/baselayer should not be missing from your pack. This will prevent you from getting cold due to sweaty clothes.
Lastly, we would like to remind you to take a power bank with you, as batteries discharge particularly quickly in cold temperatures.
Safety
Besides the cold and the darkness, long-distance hiking in the snow presents other challenges and dangers for which you should be well prepared.
Avalanches are a major risk, even if this does not apply to every long-distance winter hiking trail. Nevertheless, you must consider this danger and always inform yourself about the current avalanche risk on your chosen trail. Avalanche equipment includes an avalanche transceiver, a probe and a shovel. In an emergency, you can rescue your buried trekking partner. We therefore do not recommend walking alone on a long-distance hiking trail with avalanche risk.
In addition to the avalanche equipment, the classic first aid kit of course always has to have a place in your backpack.
Planning
As you have probably already realised from the equipment and safety precautions, a long-distance hike in winter requires different, sometimes more intensive planning than the same trekking tour in summer. Especially for beginners, the choice of the right trail becomes more important than in the warmer seasons. There are trails specially designed for long-distance winter hikes – in this article we have already presented a few of them.
If you rely on huts for accommodation, you should focus on these winter-routes. If you do not choose an explicit long-distance winter hiking trail, inform yourself in advance whether the huts on your trail are open or whether closed huts provide a winter shelter. These self-support cabins can be heated by a wood stove. However, you cannot expect cooking facilities, electricity or running water here. If you decide to stay the night in a winter room, you will need to bring your own food and a sleeping bag. Also, find out about the winter shelter rates or leave a donation to help fund the shelter's maintenance.
Furthermore, it is very important to inform yourself about the weather conditions and temperature in advance, but also shortly before and during your long-distance hike. Depending on sunrise and sunset, you should plan your segments. The temperature throughout the day gives an idea of the snow conditions. Temperatures above 0°C during the day can not only increase the risk of avalanches, but the defrosted ground can also make walking more difficult.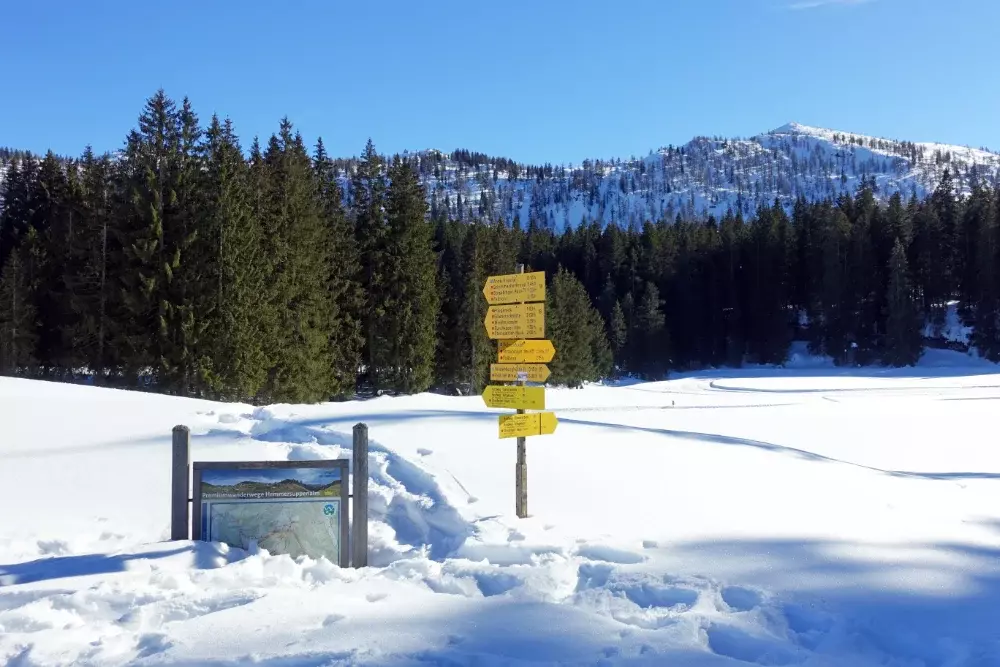 Despite many safety precautions and specific planning, trekking in the snow is not an exclusive activity for experienced hikers. However, overestimating your own abilities can quickly become dangerous. So if you are a beginner, we would recommend a guided long-distance hike in the snow to start with.
Article Image: by Theo Crazzolara onFlickr, licensed under CC BY SA