Nobody enjoys thinking about cuts, sprained ankles, or tick bites when planning their next trekking tour. But even the most experienced athletes aren't immune to these and even more severe injuries and illnesses. This makes it all the more important to be prepared for emergencies on your long-distance hike. So, in this article, we want to provide a quick overview of the must-have items in your first-aid kit and how you can prepare for emergencies.
First off, there's no such thing as a one-size-fits-all first-aid kit for trekking. The requirements for your travel first-aid kit are just as diverse and unique as the long-distance hiking trails in our database.
Table of Contents
What You Should Put In Your Trekking First-Aid Kit
When considering the size of your first-aid kit, remember: the more challenging, remote, and demanding your hike, the more supplies you'll require in it.
Note: For all medications mentioned in the blog post, you should first consult a doctor or pharmacist for advice. Some countries have pharmacies specializing in travel-health, with staff trained in pre-travel consultations. They can provide you with tailored advice on what to include in your first-aid kit for long-distance hikes abroad. Also, don't forget to educate yourself on potential side effects and drug interactions.
If you have chronic illnesses or are planning a trekking tour in extreme conditions (e.g., very remote, several weeks, demanding terrain or climate), it's crucial to get a medical check-up and speak with your doctor before you depart.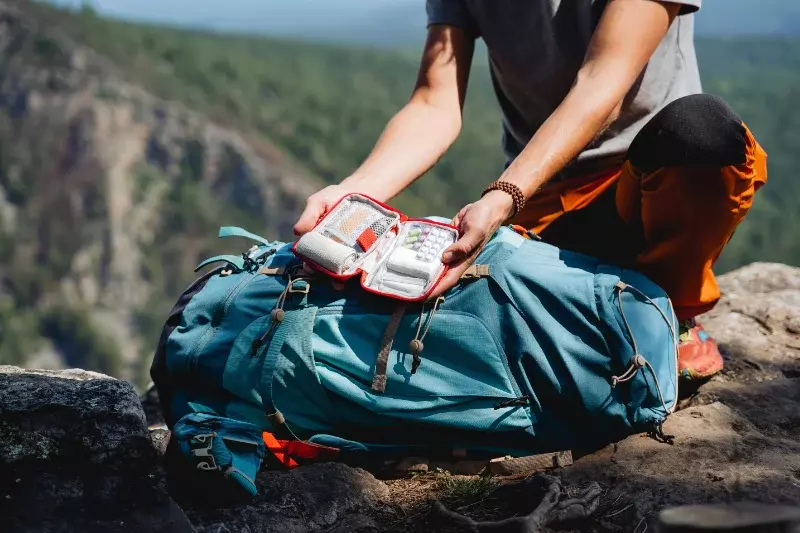 The Basics
The items listed below are typically included in first-aid kits and do not need to be bought separately.
Assortment of adhesive plasters (in different sizes)
Medical adhesive tape
Sterile bandage packets (large and small, with non-adherent pads)
Sterile wound dressings 10 × 6 cm
Sterile non-adhesive wound dressings 10 × 10 cm
Antiseptics (e.g. alcohol swabs or antiseptic spray)
Triangular bandage
Disposable gloves (only for protecting yourself, they are not sterile)
Emergency blanket
Scissors and tweezers
Safety pins
Emergency whistle
Additionally, you should add the following items to your trekking first aid kit:
Thin, elastic (optionally self-adhesive) fixation bandage
Elastic self-adhesive plaster bandage for (joint) stabilization
Blister plasters
Magnesium supplement
Medikamente:

Wound healing ointment
Medication for stomach ache
Medication for nausea and vomiting

Anti-diarrheal agent (if necessary, electrolyte replacement)
Possible Additions Depending on the Area and Duration of Your Trekking Tour
Quantity of dressing material/medication (adjust to duration of trekking tour and group size)
Tick tong (for long-distance hikes in tick hotspots)
Insect repellent (Check out our trail search to find out just how many mosquitoes to expect on the trail.)
Malaria prophylaxis (when trekking in affected areas)
Sunscreen with a high SPF (If you're facing high levels of sun exposure on the trail)
Medication for altitude sickness (can occur at altitudes above approximately 2000 meters, especially in case of poor acclimatization)
Structural aluminum malleable splint (for splinting fractures, especially on remote trails or ones with treacherous terrain)
Broad-spectrum antibiotic (for acute infections when trekking in remote areas, prescription required! Use only after prior consultation with your doctor)
Sterile syringes (5 ml) with needles (for remote areas with low hygiene standards)
Water purification tablets (check the quality of the drinking water before starting your trekking tour)
Eye drops for conjunctivitis (in remote trekking areas or in case of special risk for eye irritation)
…
Note: Keep in mind that it's nearly impossible to provide a complete list of first-aid kit items, as conditions on each trail can vary greatly. Check the conditions on the long-distance trail and, if unsure, ask your doctor or pharmacist.
Possible Additions Depending on Individual Needs
For many chronic conditions, it's important to always carry your medication, for example:
Antihistamine for people with allergies
Insulin for people with diabetes as well as glucagon in case of emergency
→ Some meds (like insulin) need to be kept cool, in that case a cooler bag is recommended.
…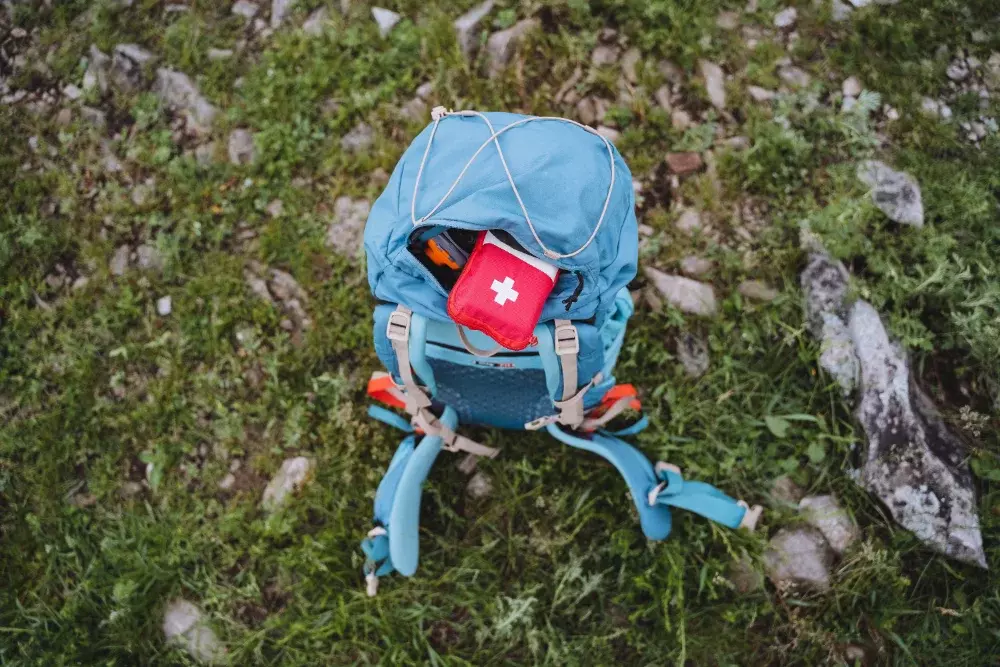 The Right Bag for Your First Aid Kit
The first-aid kit should be stored in a sturdy, waterproof bag when trekking. A noticeable color (usually red) and clear labeling make it easier to find. The bag should be structured in a way that allows you to quickly find what you need. That is why bags with all-round zipper are particularly well suited. You can open them like a suitcase, so you can easily view all contents at once. Ideally, the first aid kit should have several clear compartments for storing medications and equipment. To always be fully prepared for your long-distance hike, it's a good idea to check the contents and expiration dates of your first-aid kit regularly.
Additional Things to Consider Before Embarking on Your Trekking Tour
Make sure to check if you need any extra vaccinations for the area of your long-distance hike, or if any of your current vaccinations need a booster, well before your trip. Information about required vaccinations can be found on the WHO website.
You should also check if there are restrictions on bringing certain items into a country. In particular, prescription drugs in your travel pharmacy may often require a doctor's note for importation.
Ways To Help Yourself and Others on the Trail
Learn First Aid Skills
It's not necessary to cut your long hike short every time you sustain an injury. Minor injuries and temporary pain can often be taken care of on your own. However, the best first-aid kit does not do any good if you do not know how to use it. Before starting your trek, it's important to educate yourself on how to properly take medication and treat injuries
But when the worst comes to the worst on the trail, theoretical knowledge is usually of little help. We therefore recommend taking a first aid course before embarking on your long-distance hike. If it has been a while since your last course, it may be a good idea to take a refresher course before starting your next trek.
On remote trails, it usually takes longer for professional help to arrive. Advanced first aid is often needed there. Many Red Cross and St. John associations offer outdoor first aid courses that have been specifically tailored to meet this need.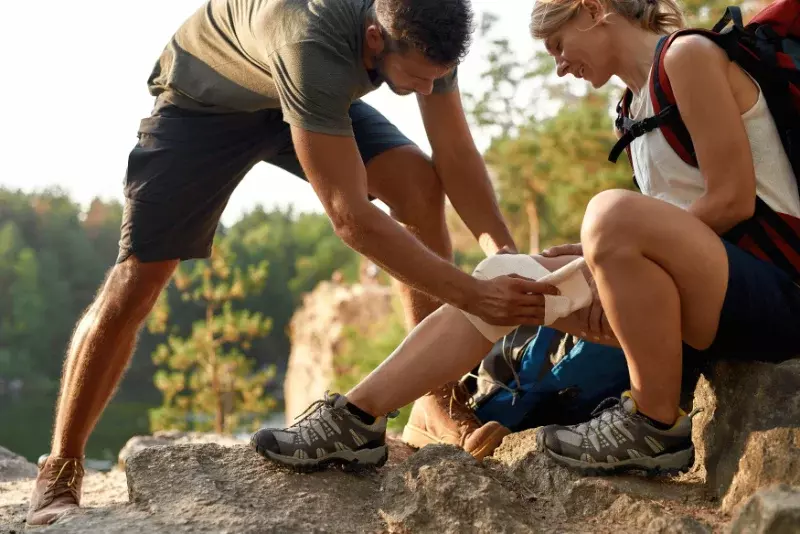 Know Emergency Numbers
When it comes to more severe injuries on a long-distance hiking trail, it's typically only emergency medical services that can offer assistance. In Europe and certain parts of Asia, 112 is the emergency number to use. You can find a list of emergency numbers from around the world here x. Additionally, there are regional emergency numbers depending on the area of the trekking tour, such as mountain rescue in the Alps. Before starting your trip, it's a good idea to jot down all the emergency numbers you may need and save them on your phone with their corresponding country codes.
Use Emergency Apps
Apps for emergencies like EchoSOS (for iOS and Android, available worldwide) or nora emergency app (only for Germany) send your location to the local emergency services. Additionally, it's a good idea to have a map app on your device where you can access your coordinates easily. When hiking in remote areas, having your GPS coordinates on hand is more useful in an emergency situation than just a description of the surroundings.
Know Your Options If You Don't Have Cell Coverage
In case making an emergency call via cell phone is not possible on the long-distance hiking trail, you can fall back on the SOS emergency signal. The three letters are represented using Morse code, with three short signals for "S", three long signals for "O", and three short signals for "S". Signs can be given both through sound (like a signal whistle) or visually (with a flashlight in the dark or by waving your arms during the day).
Specifically for the Alps, there is the Alpine emergency signal. Alternately, six signals are given per minute, followed by a one-minute break. The response is given with 3 signals per minute, followed by a one-minute pause. It can be given acoustically or optically, just like the SOS signal.
If your trekking area is remote and it's clear from the start that you won't have network coverage, investing in a satellite phone or an emergency transmitter using satellite technology, despite its cost, may be a wise choice.
Carry an Emergency Card With You
Having an emergency card with your personal information, including any chronic illnesses, allergies, blood type, and insurance information, will make it easier for rescuers in case of an emergency.
Conclusion
We hope we were able to provide you with a brief overview of the most essential components of a first-aid kit for your trekking tour. Make sure to customize your personal first-aid kit to fit the conditions of your long-distance hike and your individual needs, and consult with your doctor if needed. Having a properly equipped first-aid kit and knowing how to use it will ensure you're ready for your next trekking adventure. We hope you will have a great time!
Check out our trail search to find the perfect long-distance hiking trail for your next trekking adventure.