Crossing the Alps on foot is in many ways a trekking dream come true, because you are not only crossing the largest mountain range in Europe, but also varied landscapes and countries are at the heart of an Alpine crossing. You'll learn everything you need to know about it in this article, and we'll introduce you to our top 3 alpine crossings!
Inhalt
The Alps and their first crossing
As can be easily seen, a crossing of the Alps leads through the Alps. What distinguishes this mountain range and when it was first crossed, we have briefly summarized here. It was formed about 135 million years ago by the shifting of the African and European earth plates and therefore belongs to the so-called fold mountains. However, this process is not yet finished and the plates are still shifting – albeit very slowly.
The Alps are the highest and largest mountain range in Europe in terms of area, stretching over more than 200,000 km² from the Ligurian Sea to the Pannonian Basin. Due to its size, the ecosystem created there is not only located in different countries (Germany, Switzerland, France, Italy, Liechtenstein, Monaco, Austria and Slovenia), but also in different climatic zones. The Alps separate the Central European climate from the Mediterranean south, as the cold air from the north and the warm air from the south is stopped by the mountain range. This has allowed a unique diversity of species and plants to develop and there are now more than 30,000 animal and 13,000 plant species.
The first crossing of the Alps took place in 218 BC by the Carthaginian commander Hannibal. For a strategic advantage in the Roman attack on Spain and North Africa, he crossed the Alps to Italy together with his army, horses and nearly 40 elephants. To this day, this crossing is considered by scientists to be a logistical and tactical masterstroke.
Nowadays, a crossing of the Alps is one of the most popular trekking tours in Europe and is called the queen of long-distance trails.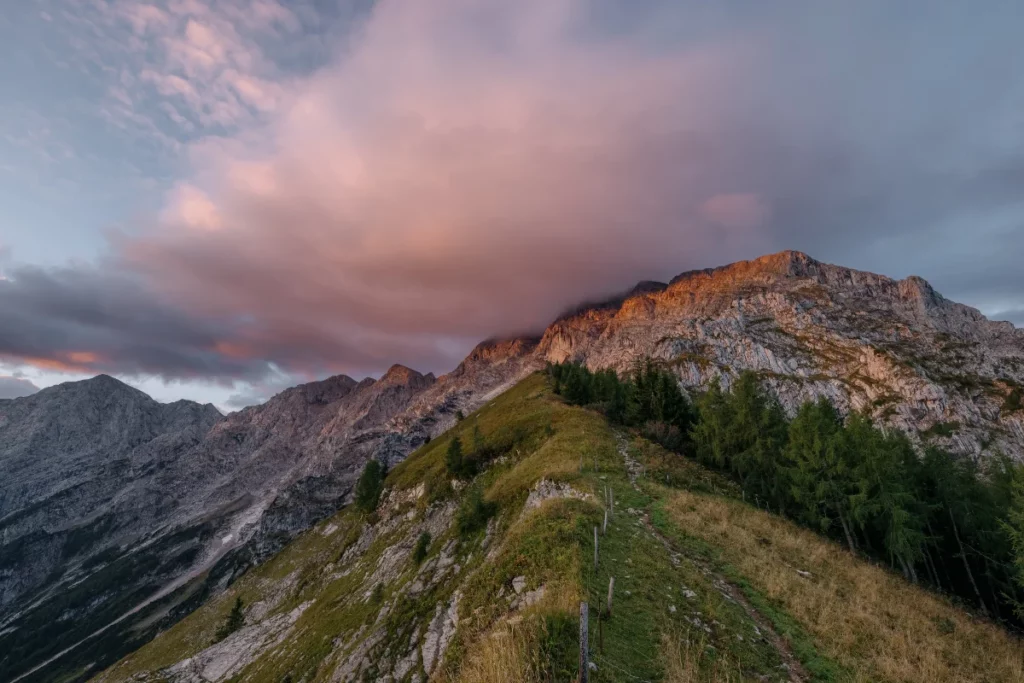 Duration of crossing the Alps
The question about the duration of a alpine crossing is not easy to answer, because there are many different long-distance trails with different lengths. Of course, this can also be an advantage, as you can choose your trekking tour through the Alps according to your needs, fitness and available time. Overall, you should still expect at least a week, because even the shortest trails, such as the E5 from Oberstdorf to Merano, take between six and eight days.
It can always be longer and some trails like the red Via Alpina from Trieste to Monaco can take almost half a year with 2,500 km.
So it's up to you how many days you want to spend in the Alps!
Best time to cross the Alps
Even if choosing the best long-distance trail for your crossing of the Alps is a real pain of choice, at least we'll take away the choice of timing, because it's relatively easy to determine. This depends mainly on the opening hours of the huts, which usually open only in summer from mid-June and close again at the beginning of winter in early/mid-October.
In addition, you should pay attention to the weather conditions, because even if the huts are already open in June, at this time there is often still snow – not the best conditions for your trekking tour. Those who are sensitive to cold should also not leave too late, because at the end of September or beginning of October you can also experience beautiful days in the mountains, but the temperature is much lower, especially in the morning. And the unexpected onset of winter can also spell doom.
Therefore, mid-July to mid-September is in our eyes the best period for your crossing of the Alps, as the snow has most likely melted and the temperatures are also pleasantly warm.
Your starting day then depends on whether you want to do a guided long-distance hike or set off on your own. We will show you the advantages and disadvantages in the next point.
In advance, if you decide to go on a guided trekking tour, the choice of the starting day is usually taken from the agency. If you are hiking alone, the choice of start day depends mainly on the popularity of the trail, as well as the start days of the guided tours. If you can, don't start on the same day, otherwise you can expect crowded long-distance trails and overcrowded, if not fully booked, huts.
For the popular E5 from Oberstdorf to Merano, for example, a Tuesday, Wednesday or Thursday would be the perfect start day, as many tour operators depart on the weekend.
Alone or guided?
This choice depends mainly on your experience in long-distance hiking, but of course also on your available budget. If you have never been on a long-distance hike, let alone in the Alps, then we definitely recommend a guided tour. If you already know a bit or are perhaps already an experienced long-distance hiker, then the following points are important:
First, of course, cost is an important factor in your decision, as usually guided tours are more expensive than going alone. However, the price is not unreasonably higher, you are also paying an experienced mountain guide who knows the Alps, takes you by the hand and is there for you in case of potential danger. In addition, the entire planning, as well as the booking of accommodations, will be taken care of, and you don't have to worry about anything. For those who do not feel like doing it or simply do not have time to plan, then the guided crossing of the Alps is for you.
But what are the advantages of hiking alone? A big plus is the flexibility, as you can hike at your pace and take as many breaks as you want. You can also stay overnight where you want and hike with people you know or all by yourself and not with strangers.
However, we recommend only experienced long-distance hikers to cross the Alps on their own.
Accommodation
As already mentioned, when crossing the Alps you have the possibility to stay overnight in mountain huts. This is also almost the only legal overnight accommodation, because wild camping in tents is completely or mostly forbidden in all countries of the Alps. Whether you get caught is of course the other question and your own risk. If you decide to spend the night in a tent, you can read here the exact rules for each country, as well as the correct behavior when wild camping.
The hut variant is not only legal, but also much more comfortable. Usually you can choose between camps and your own rooms. However, depending on the popularity of the trail, you may need to book or reserve your sleeping space early. Of course, this can also have disadvantages, because if you are on the road for a long time, it can always happen that you don't reach your kilometer goal of the day and therefore not the hut. For popular trails you still can't avoid booking early, for lesser known trails it might be enough to book a few days in advance.
The same applies to hotels and guesthouses, although their prices are significantly higher.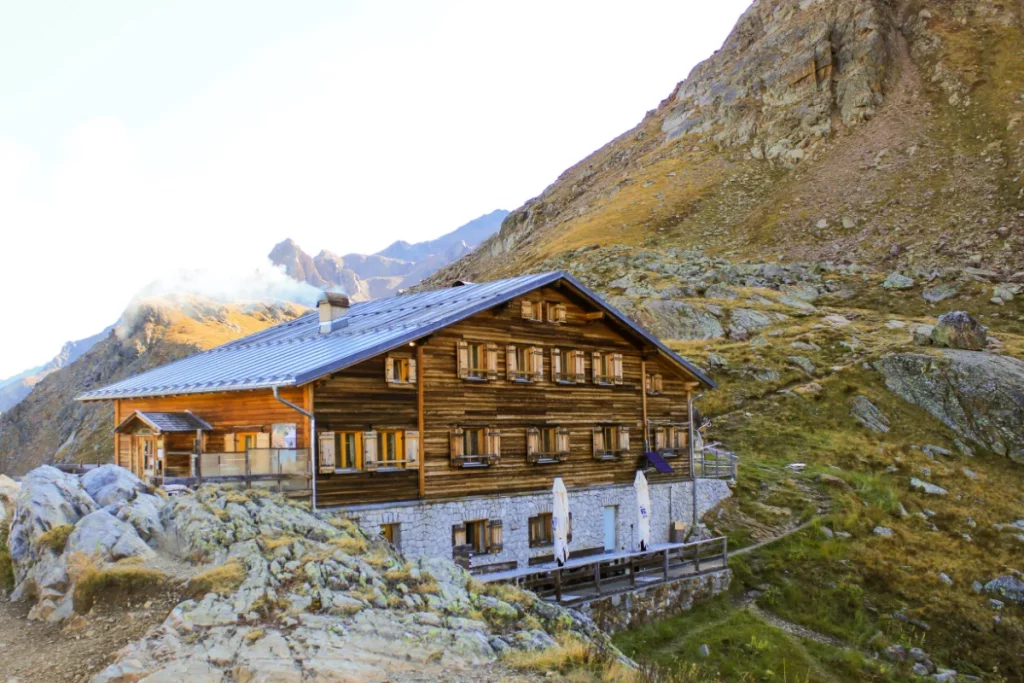 Cost of crossing the Alps
The costs depend, as already mentioned, strongly on whether you book a guided trekking tour or organize everything yourself. It also depends on the length and popularity of the trail, as well as your desired comfort level.
The different expenses result from:
Transportation costs of arrival and departure
Food
Accommodation
Equipment and supplies (if not already available)
Luggage transport (optional)
Many of these points are again dependent on various factors, as for example you spend much less money when you are self-catering than when you rely on the huts for food. Besides, a camp sleeping place in a mountain hut also costs less than a private room in a hotel. In addition, you can save money as a member of the Alpine Club, because in this case you get a discount in the huts.
So it depends very much on your own standard and unfortunately we can't determine a general cost.
Preparation for alpine crossing
In any case, a crossing of the Alps should not be underestimated, because the physical and perhaps also mental effort is not to be taken lightly, especially as a beginner. However, if you often go hiking or long-distance hiking in your free time, you should be well prepared to master a crossing of the Alps.
If you rarely or never go long-distance hiking and do little other sports, then crossing the Alps is not impossible, but you definitely need two to three months of preparation time. For this, you can generally start with any sport that you like and at the same time helps your cardiovascular system and fitness. These include jogging, cycling, swimming and, of course, hiking.
In addition, it makes sense to strengthen your muscles, especially in your legs, since after all they are the ones that carry you and your backpack across the Alps. For this purpose, the already mentioned sports are suitable, and of course, you can do various exercises with or without weight in addition.
Once you've strengthened your endurance and muscles, it's time to head to the mountains and go hiking, if you haven't already done so from the beginning. This way you get used to the nature of the trails and the weight of the backpack. In the beginning, simple day hikes are enough, which you should slowly increase in kilometer length, elevation gain and backpack weight. Day tours also offer you an optimal opportunity to test your equipment.
The icing on the cake of a perfect preparation is a balanced diet, whereby you can support your muscle building with additional protein intake. In addition, it is always wise to refrain from smoking or alcohol, at least for preparation and during the alpine crossing.
What else do you need to consider?
To make your first crossing of the Alps a success, we recommend that you take trekking poles with you. Not only do they take the strain off your knees, but they also help you keep your balance so you can get across the Alps safely. On the subject of safety, it is also important not to take unnecessary risks, especially when traveling alone or without a mountain guide.
You should also definitely reconsider crossing the Alps if you are not sure-footed or free from vertigo, as some sections are characterized by steep slopes.
And last but not least, it is always an advantage to have a little cash with you, because at the huts you often can't pay with a card.
Our Top 3
To finish off this article, we've picked out our three favorite Alpine crossings to share with you. The first two are among the most popular long-distance trails across the Alps, and not without reason. Our third choice is a little more unknown, but no less beautiful!
Traumpfad: Munich – Venice
The Alpine Crossing from Munich to Venice, also called the "Traumpfad", is a true classic and leads over 550 km through the most varied regions of the Alps. Starting in the Bavarian Pre-Alps, you will cross the Austrian Alps, the Italian Dolomites and finally the lowlands from Belluno to Venice in 29 stages.
The long-distance trail itself is also very varied, as you hike back and forth between narrow and scenic trails and it also includes some climbing. Due to its popularity, you should book in advance and be prepared for other long-distance hikers on the trail.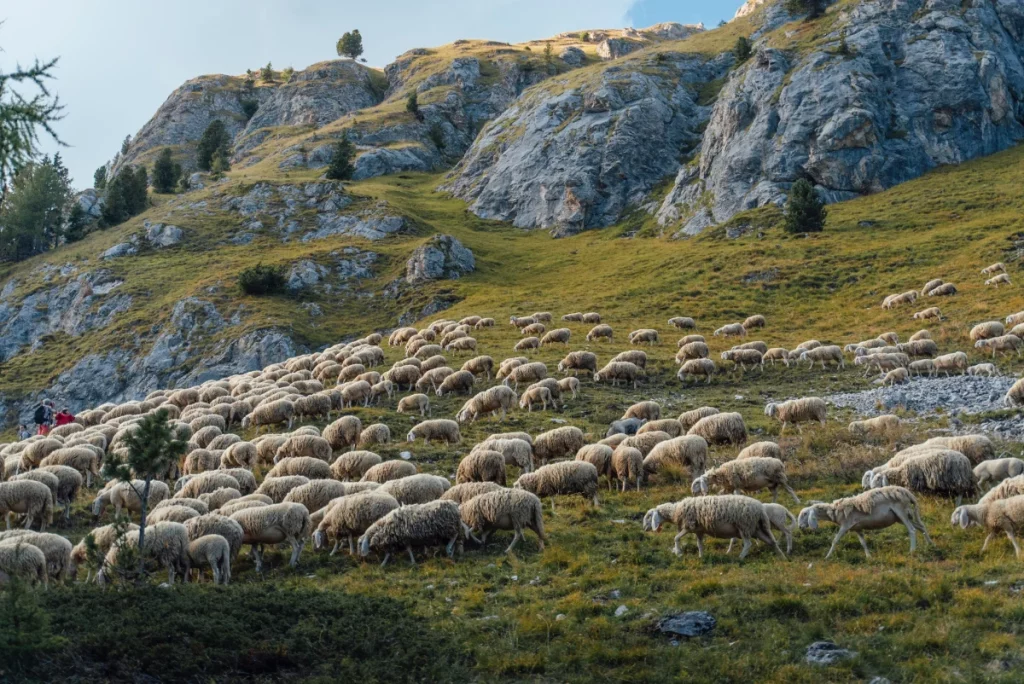 E5 from Oberstdorf to Merano
Another classic is the section of the E5 from Oberstdorf to Merano. This crossing of the Alps is much shorter and can be hiked within a week with only 100 km to 180 km – depending on the route. But the nature is no less varied and you can look forward to green alpine meadows, dense forests and icy glaciers.
Again, due to its popularity, you should book well in advance and if you are not on a guided trekking tour, start during the week and outside of vacations. Especially for long-distance hikers who are not yet that experienced or have only little time, this alpine crossing is perfectly suitable.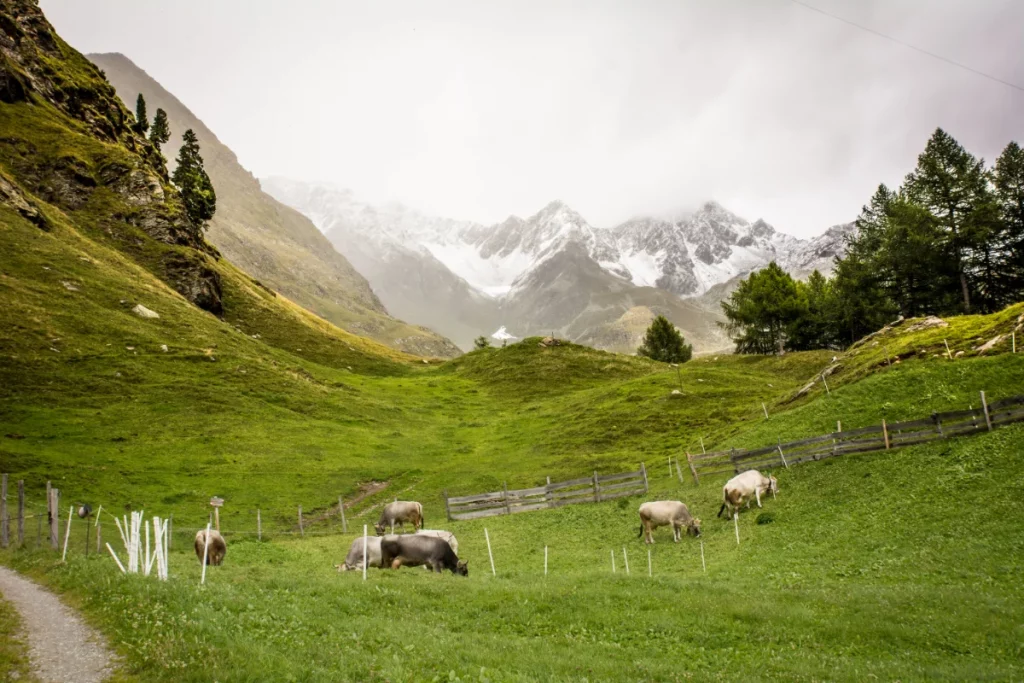 Alpine crossing Salzburg – Trieste
This long-distance hike is a rather unknown crossing of the Alps and is often overshadowed by the two classics mentioned above. Here you hike over almost 500 km in 28 stages through the various national parks of Berchtesgaden, Hohe Tauern and Triglav to the Italian coastal city of Trieste. On the way, the Eastern Alps and thus seven mountain groups are crossed and you are rewarded with unique nature.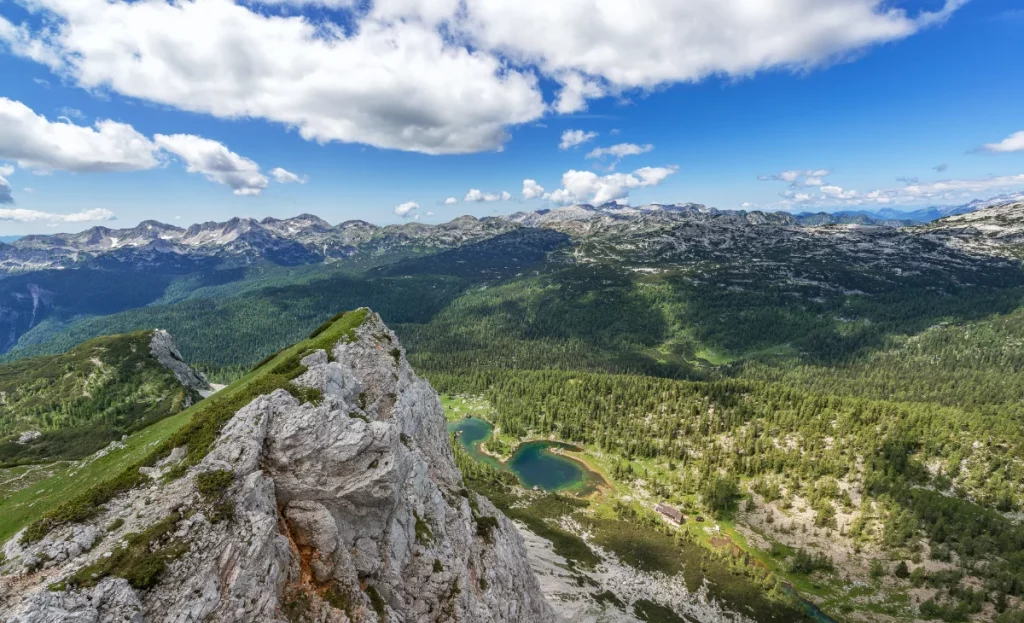 A crossing of the Alps is definitely a must for every long-distance hiker and we hope to have given you a little help with the selection and planning with this article.
Feel free to leave us a comment if you'd like to read a second part with a step-by-step guide for a specific Alpine crossing!