Summer is getting closer and that can only mean one thing: The trekking season in Northern Europe and Scandinavia is opening! The last untouched nature in Europe invites you to countless unique long-distance hikes and is best explored in the summer months. But what is there to consider in these countries and what distinguishes them from other trekking destinations? In this blog post, we'll give you an overview of everything you need to know about summer trekking in Northern Europe.
Content
General information about the countries of Northern Europe and Scandinavia
Which exact countries are meant by Northern Europe and Scandinavia is not that easy to define. This is because many terms are often used interchangeably, even though they do not actually refer to exactly the same countries and regions.
Nordic countries are, for example, the states of Denmark, Finland, Iceland, Norway and Sweden, as well as the autonomous territories of the Faroe Islands, Greenland and Åland. Scandinavia, on the other hand, geographically includes Norway, Sweden and northwestern Finland. However, if you look at Scandinavia culturally, Denmark, Norway and Sweden fall under the term.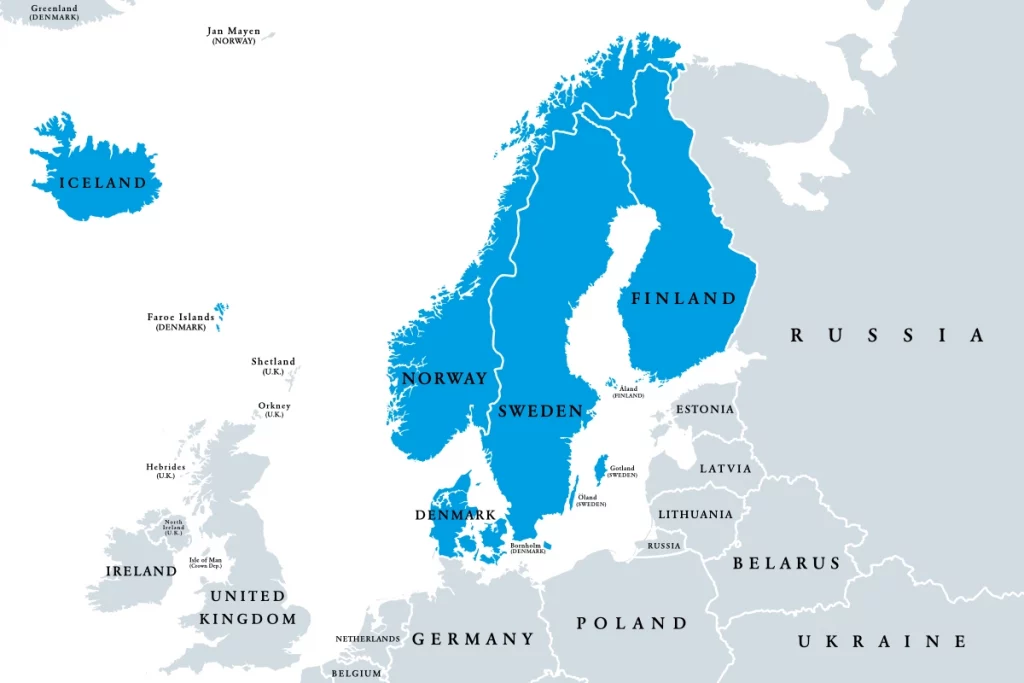 If you follow the UN division of Northern Europe, Åland, Denmark, Estonia, the Faroe Islands, Finland, Iceland, Ireland and Man, the Channel Islands with Guernsey, Jersey and Sark, Latvia, Lithuania, Norway, Sweden, Spitsbergen with Jan Mayen as well as the United Kingdom (Great Britain) are included.
Due to the focus on long-distance hiking, we will concentrate on the following countries in our article: Norway, Sweden, Finland, Iceland and Scotland.
What they almost all have in common is the low population density – the perfect conditions for an undisturbed trekking tour in the untouched nature. Being on the trail for days without encountering a house or other people (with the exception of other long-distance hikers depending on the popularity of the trail) is therefore not uncommon.
Landscape highlights
A long-distance hike in Northern Europe is a highlight in many aspects. Especially the diverse untouched landscape and wild nature are breathtaking. It is characterized by fjord landscapes, dense pine or birch forests, long sandy beaches, lake landscapes and various mosses and grasses. In addition, several national parks dot the landscape.
Weather, climate and best time to travel in Northern Europe
Summer is the best time for a long-distance hike, especially because of the weather at that time. Of course, the temperatures are not comparable with the southern European ones, but maybe just for that reason it is the perfect trekking weather. It usually never gets particularly hot in Northern Europe, and temperatures are highly dependent on proximity to the Arctic Circle. Therefore, here is a brief overview:
Iceland:
In summer, temperatures average between 12°C and 15°C, although it can be much cooler inland and in some regions much hotter with temperatures above 20°C. Rain is also to be expected, with the least in the early summer months, and it also varies by region.
Scotland:
In Scotland, the average temperature in summer is 17°C, so it is not very warm. However, for a long-distance hike, this is perfectly suitable. In general, the weather in Scotland changes constantly and you definitely need clothes that you can change quickly. As in Iceland, the climate differs depending on the region. Overall, it can be assumed that precipitation will be more frequent in the west and that the east will be sunnier in return. In addition, the summer months from May to August are the months of the year with the least rainfall.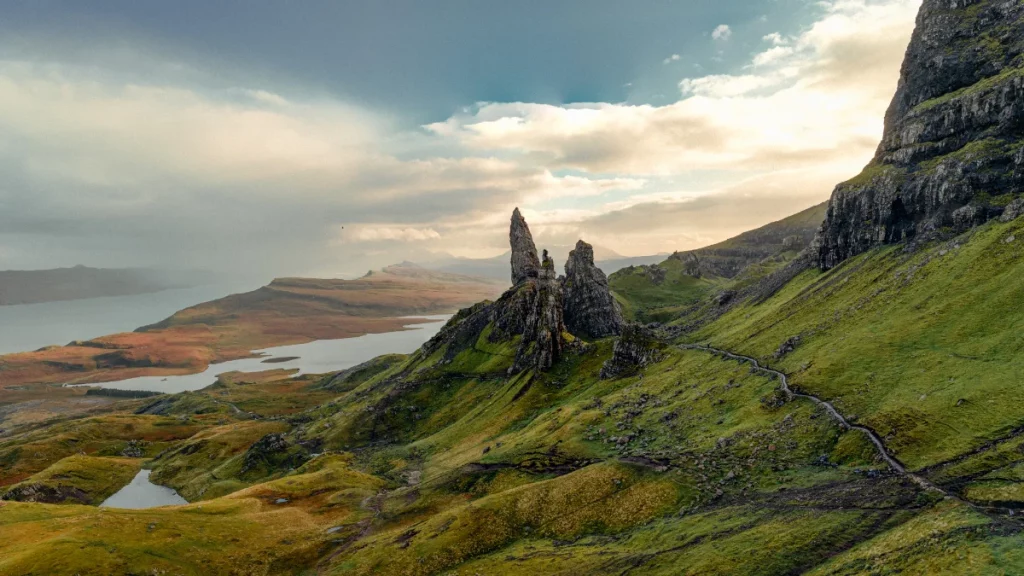 Sweden, Norway and Finland:
The warmest month in Sweden is July, with an average temperature of 16°C to 18°C in the south and 12°C to 14°C in the north. In the south it can also be very hot and sometimes 30°C are reached. Rain can occur here all year round, so it is advantageous to wear waterproof clothing on your hike and also to protect your backpack from rain. In Finland and Norway the temperatures are very similar due to the same location, so the average temperatures are 12°C to 15°C in the north and 14°C to 17°C in the south.
Due to these climatic conditions, the best trekking season in these countries is in some instances May, June to August and in some instances September.
Bright summer and midsummer night
A special feature of the northern European countries are the long, bright summers. The closer you get to the Arctic Circle, the longer the days become, and in some areas the sun doesn't set at all during the summer months, making it bright as day even at night. For instance, even though there are only 21 hours of daylight in Iceland, the sun still never really sets and sunrise occurs before the sun even disappears behind the horizon. Complete darkness does not exist here or in the other countries and their northern areas in summer. In the so-called midsummer night the sun reaches the northernmost point of the orbit and is celebrated in many northern countries in a special way in June.
The high amount of sunlight has the advantage, especially for long-distance hikers, that they can take longer to cover the daily kilometers and do not have to worry about having to cover the distance in the dark. However, it means a disadvantage for sleeping in the tent, because you may have difficulty falling asleep. Therefore, either an opaque tent or sleeping goggles are recommended – ideally both.
Accommodation and rules on the trails
On the trails there are various accommodation options with different advantages and disadvantages. Above all, the so-called Everyman's Right is a special feature in Scandinavia and in parts also in Iceland and Scotland.
Sleeping in cabins
Norway:
In Norway, the hiking association DNT is responsible for 550 cabins, some of these are with dining options. Another cabin organization is Statskog. The quality of the huts varies greatly, as some are self-catering and have only a few beds, while others have many beds and are with dining options. The managed huts and mountain hotels with various services are mostly available only on popular trails.
Self-catering huts are usually equipped with kitchen and heating facilities – the food and sleeping bag should be brought.
All huts are usually open only in high season and we advise you to check the opening hours of the huts on your trail before you go.
Important: Many huts need a key, which you can pick up in advance in managed huts or in an office of DNT. Also, you should always have cash with you, as you can't pay with a card at many huts.
Sweden:
The Swedish cabins are maintained by STF (Svenska Turistföreningen) and in Padjelanta by Länsstyrelsens Fjällförvaltning. Nevertheless, most of the cabins are fell cabins, which are not managed and therefore self-catering. As in many countries, there is a hut warden during the summer months to look after the cabins and take the payment.
Finland:
While the cabins in Sweden and Norway are managed by different organizations, Finland's cabins belong to the state and are available to everyone. They are therefore self-catering huts, often rustic in appearance and equipped only with a stove and wooden beds. In return, however, the use is also free of charge.
Especially in high season, i.e. the summer months, you can therefore not hope for a hut as a place to sleep, as they are often already full.
From time to time there are also huts with more comfort, so-called varaustupa, and forest workers' huts (kämppä), which may be used by long-distance hikers.
Iceland:
The Icelandic Travel Association Ferðafélag Íslands is responsible for 40 cabins throughout Iceland. They are located on the most popular trails, such as the Laugavegur Trail, and are therefore booked up quickly. The comfort of the cabins is relatively different, as some have running water and toilets available, but others do not. For an overnight stay in one of these huts, a sleeping bag is required in any case. In addition, all cabins are self-catering.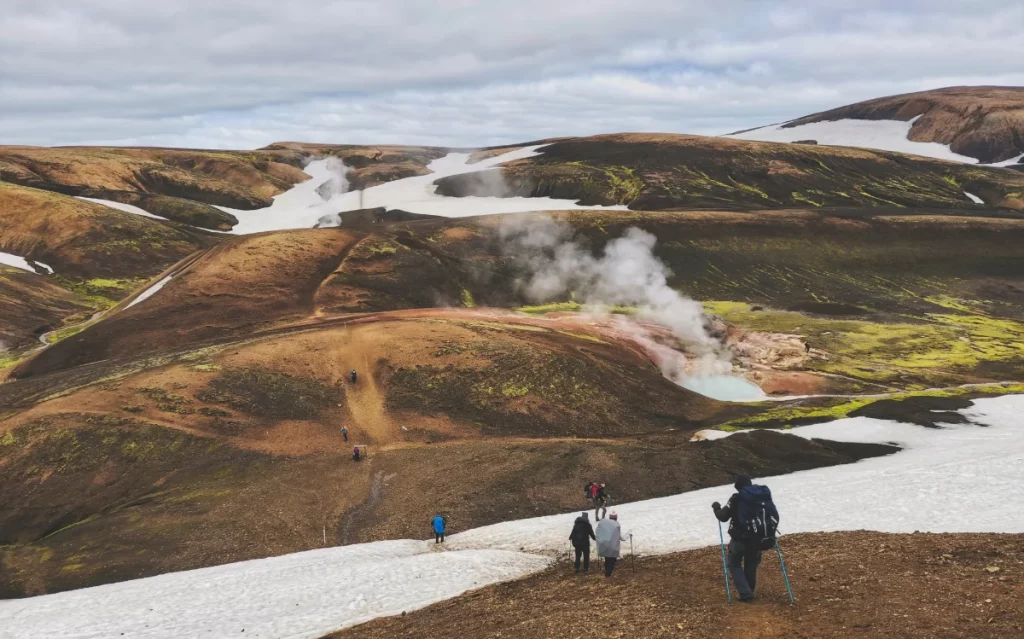 Scotland:
The cabins in Scotland are called bothies and they are former hunters', foresters' and farm workers' cottages. Their use is in many cases free of charge and they are also self-catering cabins without running water or electricity. Nevertheless, the Mountain Bothies Asscociation (MBA) takes care of the huts and have listed a map of all available bothies on their website.
Rules of conduct in the cabins
In most huts, especially the self-catering ones, there are certain rules of conduct. These are very similar in Sweden and Norway and basically involve simple cleanliness rules to prepare the cabin for the next overnight stay. Before your departure, you should mop the floor, wash the dishes, air the place and get fresh water and wood for the fire. In addition, the waste should be taken away. The following applies to the water: The water above the hut is drinking water and the water below can be used for everything else like rinsing or washing.
In Finland, these rules basically apply as well, but are not taken quite as strictly.
The cabins in Iceland also have their own rules of conduct, which you can read here. In addition to similar basic rules of cleanliness, shoes should be removed before entering, night rest is from midnight to 7 am and smoking in the cabin is strictly prohibited.
Wild camping and the Everyman's Right
If you don't feel like spending the night in a hut, you can simply go wild camping in a tent in these countries. Another special feature is the so-called Everyman's Right, which is even enshrined in law in Sweden and Norway. It is the right to access the outdoors and applies to every person regardless of status or money. In addition to wild camping, for example, you are sometimes allowed to pick wild berries or mushrooms for your own use, or to light fires in places without fire danger and without destroying nature. However, caution is advised with fire and should actually be avoided in the best case.
In all the countries in this article, Everyman's Right is largely allowed and is subject to specific rules per country, which you can read about in our blog post.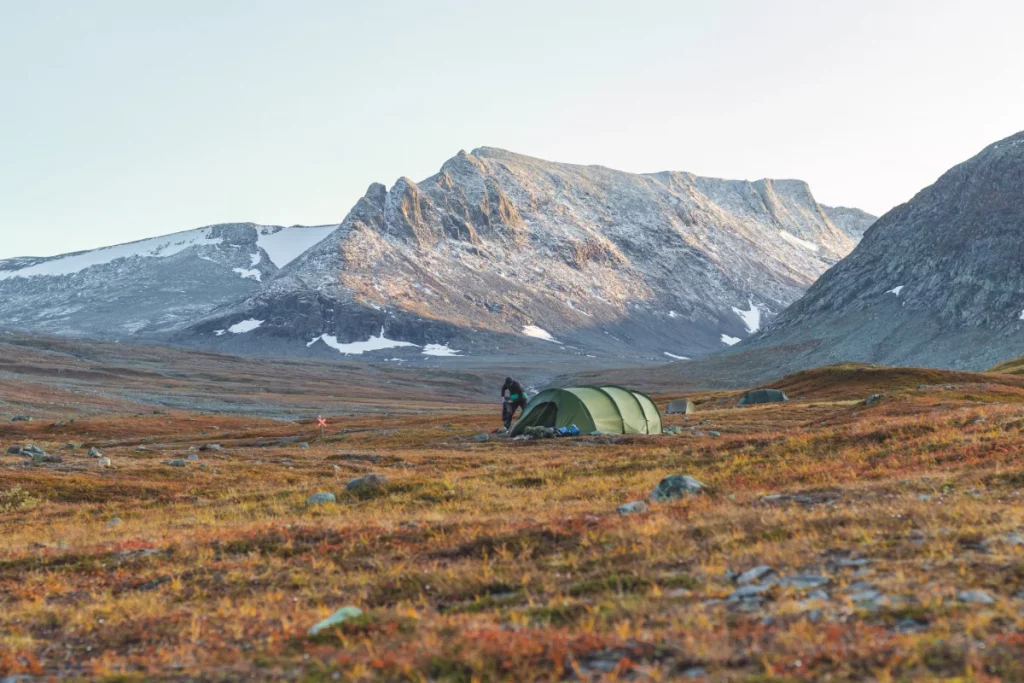 Leave no Trace – Principle
However, the Everyman's Right is also subject to some obligations, so that nature is not damaged and everyone can enjoy nature in the same way. A very important principle in this context is the Leave no Trace principle. It means that you should leave nature as you found it and in the best case you can not even notice that someone was there. Do not leave trash, chemicals from soaps or similar substances, and feces and leave the place as you want to find it.
You can read the 7 golden rules of Leave no Trace and other important information about it here.
Condition of the trails and other information
What are summer bridges?
Something you can always find in Scandinavia are so-called summer bridges. These are built over larger rivers only during the summer months to facilitate their crossing. In some places, the trails are difficult or impossible to walk on without summer bridges (especially during snowmelt).
Particularly in rivers with strong currents it is very helpful to walk over such a suspension bridge construction instead of balancing from stone to stone. They are usually set up in the months from July to September, although the exact time of set up is very weather dependent.
It's best to inform yourself in advance if the bridges are already built on your trail.
Mosquitos in Northern Europe
The Northern European countries and countries of Scandinavia are absolute trekking countries and are characterized by dreamlike wild nature. Nevertheless, there are also annoying mosquito populations in certain areas that can make the adventure of a long-distance hike a pain. Basically, the further north you go, the higher the chance of encountering swarms of mosquitoes.
Usually they stay in windless places or places near water bodies or marshes. In Iceland, there is even a lake named after the pesky twitch and black flies and their high abundance there: Lake Mývatn. Oftentimes only a fly net over the head helps there. Even though there are of course mosquito sprays, they don't really help with black flies.
In general, however, it is worth buying a local mosquito spray, as this will at least keep the other mosquitoes away to some extent. It is really important to buy the spray locally once you arrive, as they are specialized in the mosquito occurrence there.
The little midges found in Scotland are just as annoying, as they seem to have an insatiable thirst. Their bite does not transmit diseases, but it is still annoying, because it can cause severe itching. Especially in the summer months from the end of May to September their occurrence is particularly high and they start their onslaught in large swarms. Depending on the weather, they are a nuisance only in the afternoon and evening, but sometimes all day. Again, a fly net for the tent and a local mosquito spray is worthwhile.
Orientation on the trails
Another important point is of course the orientation on the trails. Depending on their popularity, they may be better or worse signposted, so it's best not to rely on them. It is definitely recommended to always check your location against a map in order to not get lost.
An offline map app or a paper one directly is suitable for this, as you should not rely on cell phone reception either and there are some areas without any reception.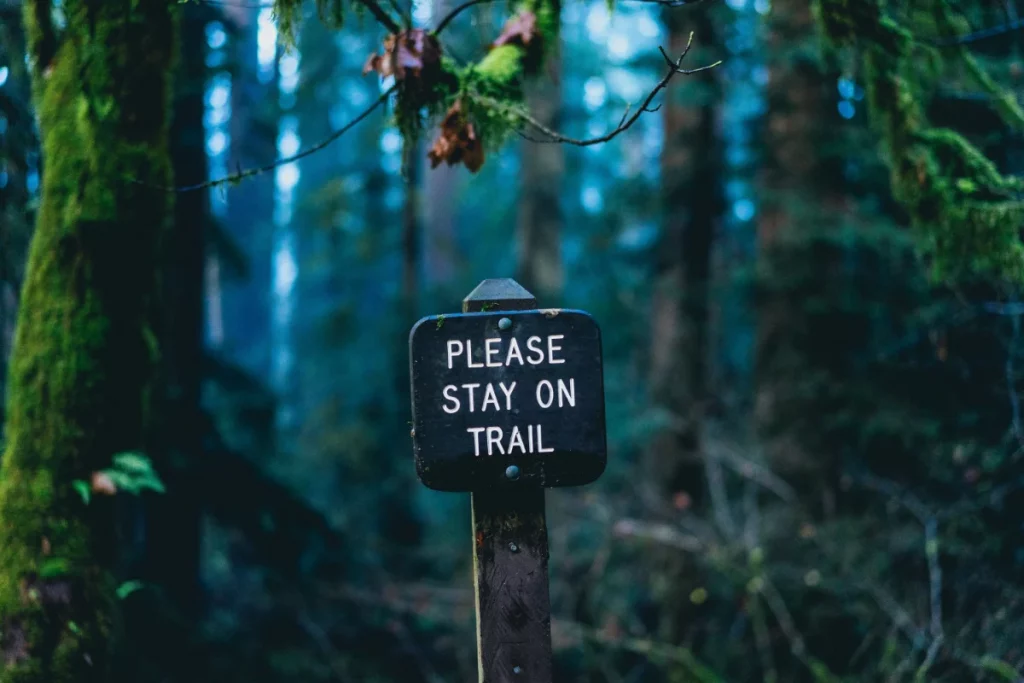 Must-haves for your long-distance hike
To make sure you don't forget anything important, we have compiled a small list of specific must-haves for Northern Europe and Scandinavia. You should take these things in addition to your regular luggage.
Water filter
Opaque tent
Sleep goggles
Compass / Offline Maps App / Paper Hiking Map
Rain cover
Local mosquito spray or fly net
Are you ready for a new trekking adventure in Northern Europe or Scandinavia? You can choose your next trail in our database and we hope you enjoy your trekking tour and encounter only few mosquitoes on the trail!
© Cover image: Colin Moldenhauer on Unsplash