Many people go on a trekking tour to get out of their daily routine – for the peace, freedom and fresh air. And what better way to get that absolute feeling of freedom than an overnight stay in the wilderness? You pitch your tent wherever you want – where you like it, independent of a campsite or accommodation. Your evening will end with a fire and a view of the starry sky, listening to the sounds of nature. A true adventure!
In some countries, wild camping is subject to its own term – the everyman's right. What exactly this is and what duties are associated with it, you will learn in this article. We also explain in which European countries wild camping and/or everyman's right is allowed.
Table of Contents
Where does the everyman's right apply and where is wild camping allowed?
What is the everyman's right?
The so-called everyman's right or freedom to roam originates from Scandinavia and is a right to access the outdoors. This means that everyone is allowed to move freely in nature/wilderness and use it. This goes far beyond simply entering nature. Behind this is the idea that every person, regardless of status or money, has the right to enjoy the outdoors.
In most cases, the following items fall are part of this right:
Sports under your own power like trekking, cycling or fishing
Wildcamping in a tent
Pick wild berries or mushrooms (for your own use)
Making fire (in places without fire hazard)
Depending on the country, there are differences in the form of the right and in many countries the everyman's right does not exist at all. However, this does not automatically mean that you are not allowed to wild camp there. Some of these countries allow much more than the mere right to enter nature and thus approach the everyman's right, even if they have not enshrined it so by law.
Therefore, we still have a listing of various countries in Europe and the rules that exist there.
Duties of the everyman's right
But before we start with the different countries, there are still some obligations that go along with the everyman's right to consider. Access to and use of the outdoors should not be taken for granted and exploited.
Any person who exercises this right simultaneously assumes responsibility over nature. Above all, fires should be lit only with caution, preferably at existing fireplaces and in places without fire hazards, for example on sand or large rocks/stones. Also, make sure the fire is out when you leave the place.
In addition, the place to sleep should be chosen conscientiously. Even though a night in the wilderness is a true adventure, you should be careful to disturb animals and people as little as possible. This means above all for the protection of the animals to behave quietly and to avoid transitions of vegetation zones as well as feeding or watering places as a sleeping place. For people's privacy, do not sleep near cabins or busy/popular places. Also, to protect the soil, you should not leave your tent for more than two nights at the same place.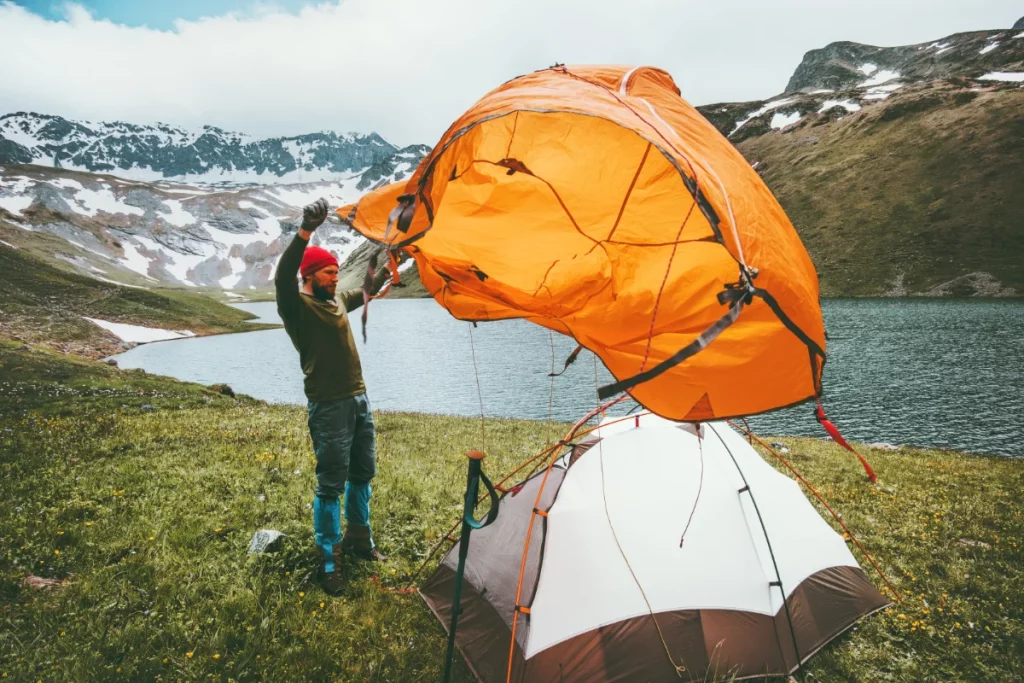 In general: Leave no trace. Always leave nature as you found it, don't damage anything and don't leave trash or feces. It is best not to bury your waste near water sources or rivers and only use normal toilet paper, as it rots the fastest.
In summary, the everyman's right means that you can use the outdoors for certain sports and wild camping (in certain countries) as long as you are responsible and protect nature.
Where does the everyman's right apply and where is wild camping allowed?
As mentioned above, the idea of the everyman's right originated in Scandinavia and is therefore allowed mainly in Norway, Sweden, Finland and Scotland. The further south you travel in Europe, the less is allowed and partly the rights that go with the everyman's right are prohibited and the everyman's right itself does not exist.
Outside of Europe, the everyman's right and especially wild camping is for the most part either prohibited, unsafe, or not possible due to mines or other reasons.
In the following, we therefore refer to Europe. The countries that are not mentioned do not have a general everyman's right and it can be assumed that wild camping is not allowed there.
🟢 permitted without any problems
🟡 partially permitted
🔴 almost not permitted / completely prohibited
🟢 Norway
The everyman's right (Allemannsretten) has been in the Norwegian Code since 1957 and is compatible with the rules above. There are also some other regulations to consider, we have listed the most important ones here:
At least 150 m distance from the nearest inhabited house when choosing a place to sleep.
Ask the landowner if you want to sleep in the same place for more than two nights
Campfires are prohibited during the summer months from April 15 to September 15 (except in places where there is no fire hazard).
More details are available on the official website of Norway.
🟢 Sweden
Also in Sweden the everyman's right (Allemansrätt) has been enshrined in law since 1994 and the rules above apply here as well. In addition there are the following rules:
All berries, plants, mushrooms and nuts may be collected as long as they are not protected or growing in nature reserves/national parks
Dogs must be kept on a leash during the bird breeding season (March 1 to August 20)
Everyman's right applies to land and water
Everyman's right does not apply to motorized vehicles
More details are available on the official website of Sweden.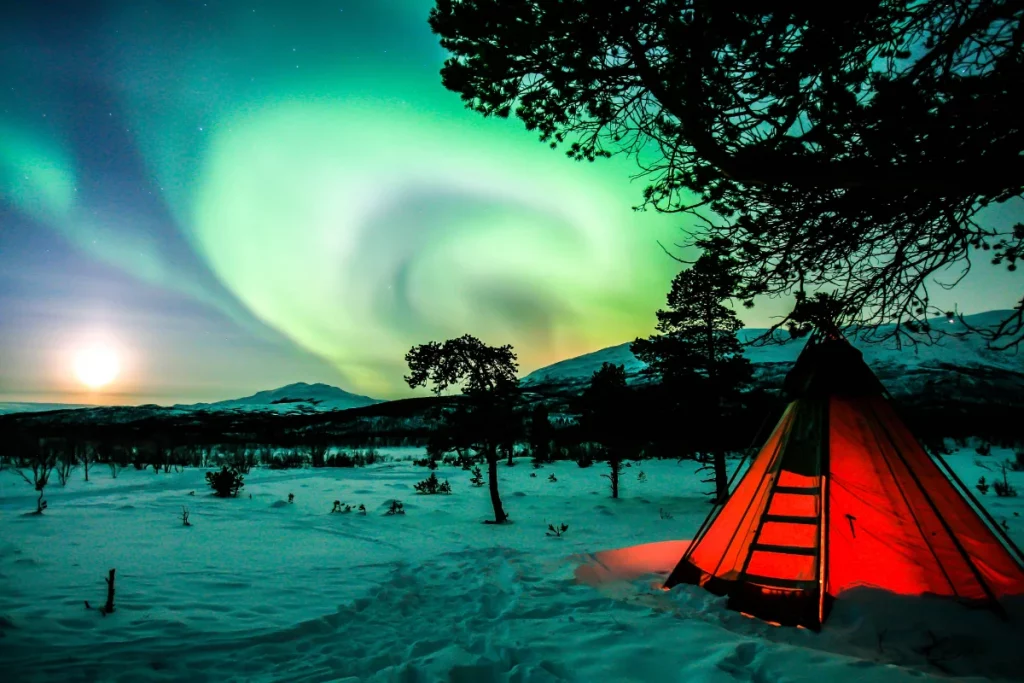 🟢 Finland
Finland's everyman's right (Jokamiehen oikeudet) also allows you almost all the rights and obligations already mentioned. Additionally, hunting and fishing (with the exception of angling) are prohibited here without a permit, as are campfires. These may only be lit on campfire sites and there only if there is no fire hazard.
More details are available on the official website of Finland.
🟢 Scotland
In Scotland, the everyman's right is called the "Scottish Outdoor Access Code", which is based on three principles:
Respect the interests of others
Care for the environment
Take responsibility for your own actions
Here, as in Scandinavia, you are allowed to enter most areas and spend the night there, with the exception of agricultural land and the surroundings of buildings. In addition, the rights do not apply to motorized activities, hunting, shooting or fishing.
More details are available on the official website of Scotland.
🟢 Switzerland
The everyman's right is also enshrined in law in Switzerland, but the exact regulation differs from canton to canton. It is therefore difficult to assume a general rule here and it is advisable to obtain precise information in advance.
However, wild camping is generally prohibited for the protection of nature in nature reserves, national parks, federal hunting ban areas, game rest areas and where there is a general ban on entering.
Mostly single overnight stays are allowed in the mountains above the timberline and on private property (with permission), but again, check in advance! Where it is allowed, the principles already mentioned apply, although toilet paper should not be left in nature, nor should a fire be lit.
🟢🟡 Ireland
Since part of Ireland is part of the United Kingdom, there is no uniform rule for the everyman's right. From a purely legal point of view, wild camping is not allowed because most of the area is privately owned. However, there is always the possibility to ask the private owner for permission and in case you are allowed to spend a night outdoors after all, there is the so-called "Wild Camping Ireland Code". This basically includes the principles and obligations of the everyman's right already mentioned.
For four specific trails, surrounding landowners have generally allowed wild camping:
The Coillte Land and Recreational Forests
National Waymarked Trails
National Looped Walks
The Slí na Sláinte
A map with over 200 permitted sleeping areas, as well as more information about Ireland's everyman's right, can be found here.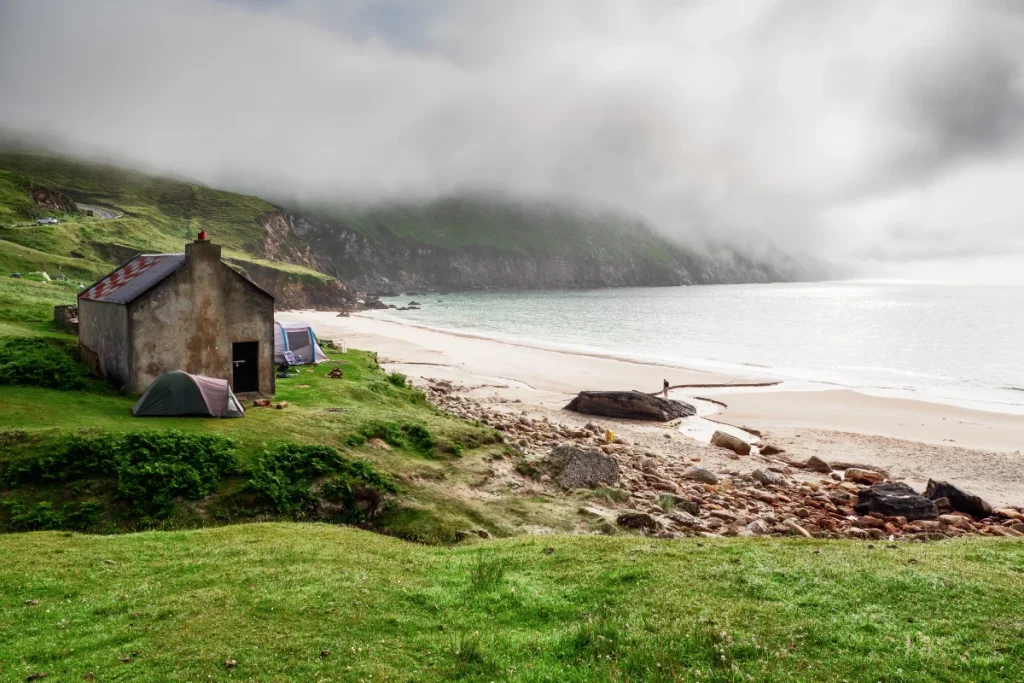 🟢🟡 Iceland
According to the Article 21 of the Nature Protection Act of Iceland, one may enter and enjoy nature anywhere as long as it is protected and not destroyed (almannaréttur). Therefore, all public areas are open to everyone with some exceptions (for example, during the breeding season). However, it should be noted the fragile vegetation and climate on the island, so natural waste should not be left lying around, as it rots badly due to the cold. For personal use, you may also collect berries, mushrooms or herbs, in large quantities you must first ask permission.
Another important and allowed point is to spend the night outdoors. For one night you can sleep in nature as long as no signs are posted. However, as a group, you should always ask the landowner for permission. He or she can also limit these everyman's rights on his or her land with the help of signs.
Important notice: Iceland's everyman's right dates back to a time when the island was not yet overrun by tourists. In the meantime, there are more and more conflicts and you should therefore always keep up to date with the regulations.
🟡 Denmark
In Denmark, there exists no real everyman's right, but the Danish Nature Administration still allows various types of overnight stays in the wilderness:
Sleep on the forest floor (mat, sleeping bag, blanket or hammock), but not in a tent
Up to two days on small campsites for max. five to eight tents
Campgrounds for groups
Free camping in over 200 forests
For more information on campgrounds and permitted forests, click here.
🟡 Balkan region: Bosnia and Herzegovina, Albania and Kosovo
In the increasingly popular Balkan region, wild camping is officially allowed in some countries. In Albania you are generally allowed to stay overnight in nature, but in national parks and private properties you should ask to be on the safe side.
In Bosnia and Herzegovina, wild camping is forbidden by law, but mostly tolerated anyway, especially if permission has been asked in the case of private property.
In neighboring Kosovo, there is no law for or against wild camping. In most cases, it is tolerated by the population without any problems.
The only sticking point in this region and an important security factor are the mines still lying in the former war zones.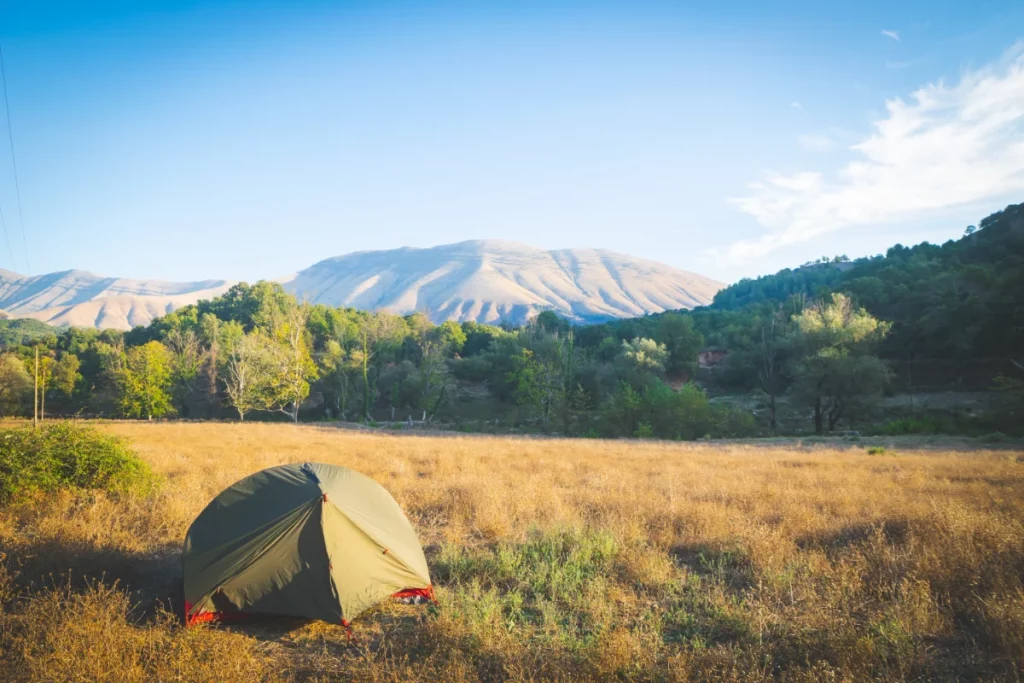 🟡 Poland
In Poland, too, there is no general everyman's right. Since 2021, however, wild camping has been allowed in 425 forest areas – whether in a hammock, iso-mat or tent. You can find all the allowed places here. The rules are:
Only two nights in the same place
Groups with more than nine people need registration
Fire is allowed at designated fireplaces
No traces or trash may be left behind
Additionally, you may stay overnight on the landowner's property with the landowner's permission
🟡 Estonia, Latvia and Lithuania
In these countries, wild camping is allowed under certain conditions, such as the above-mentioned obligations related to the everyman's right – and this regardless of whether in public or private forest areas as long as no signs state otherwise. However, overnight camping is generally prohibited in protected areas, dune areas or military areas.
In general, you are advised to use already existing fireplaces and also to spend the night on the already existing trekking places.
More details are available on the official websites of the respective countries:
🔴 Germany
In Germany, on the other hand, there is no everyman's right and overnight stays in the wilderness are regulated by the respective federal states, but the legal situation is very confusing. In some states, such as Bavaria, Rhineland-Palatinate, North Rhine-Westphalia, Hamburg, Hesse and Berlin, camping in nature is not explicitly prohibited, but it is often unclear whether the area in question is private property or not. Moreover, in reverse, it does not mean that it is allowed. Therefore, an overnight stay is not recommended.
As a safe alternative, trekking sites have now been created that don't have much else to offer other than a campsite and are therefore the closest you can get to spending the night in the wilderness.
🔴 Austria
Generally prohibited is wild camping in Austria, and therefore there is no everyman's right. Again, the exact rules vary by state, with the strictest rules across states in protected areas and forest areas. Camping is prohibited in forests without exception.
Above the tree line, regulations vary by state and bivouacking is also allowed in parts, for example if it is makeshift bivouacking. Therefore, the same applies here: Inform yourself about the respective federal state before your trekking tour.
More details are available on the official site of Austria.
🔴 Southern Europe: Spain, Portugal, Italy and France
In these countries wild camping is generally prohibited and you have to expect high penalties if you do risk it. In Italy, there are some exceptions in mountainous areas, if permission is obtained beforehand. France also allows bivouacking (some with tents) between 7 p.m. and 9 a.m. in some national parks at designated sites. You can probably already guess, but again, get informed in advance!
A night under the stars surrounded by pure wilderness and the buzzing of insects is not only possible, but in some countries even part of the tradition and quite desirable. Find the right trekking tour on our trail search and your adventure can begin! BUT: Never forget to protect nature!